By Angela Colley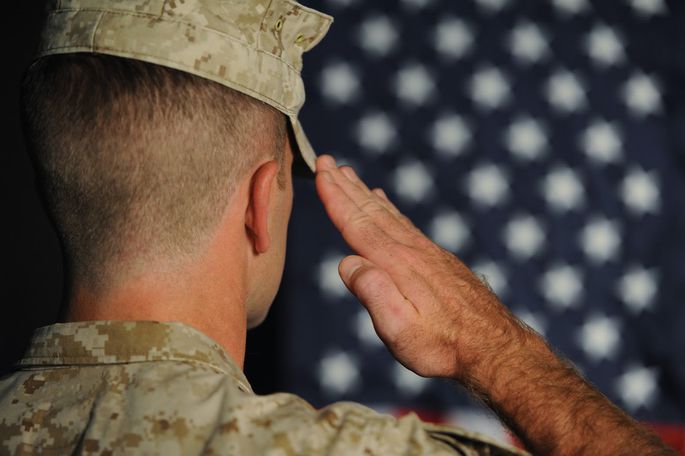 There are a ton of benefits to buying a home with a VA loan. You'll pay less upfront than other buyers. You might get a lower interest rate. And you can use your benefits again and again.
But although you may have a leg up on the other guys when it comes to home financing, making an offer on your dream home could be trickier than you expect. VA loans work a bit differently than conventional loans, but understanding VA and lender guidelines will help you make the strongest purchase offer possible.
Veterans: Check your eligibility for a $0 down VA loan if you haven't already, and then take this guidance to heart when you're looking for your dream home and making an offer.
1. Be cautious—but not dismissive—of older homes
Before you get down to the business of making an offer, you'll need to ensure you're making an offer on the right kind of home. When you're buying with a VA loan, you'll have to get the home approved by an appraiser, and the VA's standards can be stricter than those for the average home buyer. In short, they want you to find a home in good condition. That leads many buyers to believe historic homes are off-limits, but that might not be the case.
"The VA's rules about homes and what they will and won't approve is probably one of the most argued-about things I've seen," says Bobby Middleton, a VA-savvy Realtor® with Texas Premier Realty in San Antonio. "I've seen houses that were built in 1929 that didn't have a problem with the VA, and I've seen new houses and you just knew the appraiser wasn't going to approve it."
"I suggest to my clients to avoid HUD and short sale properties," adds Rob Racz, managing broker for Windermere Real Estate in Everett, WA. Many of these properties have been damaged or fallen into disrepair, making them unlikely to win approval for a VA loan. If you really want an older home, look for one that's already been remodeled.
2. Work out repair requests with the seller
Even if you're buying a newer home, you'll have to be on the lookout for potential problems. The need for a little updating in the kitchen or a fresh coat of paint won't matter much to a VA appraiser, who's looking at broad health, safety, and marketability issues. But bigger issues can cause a problem with your VA loan—and, subsequently, your offer.
"The lender is not going to loan you the money to buy the house unless the repair is made," Middleton says.
The problem is the seller doesn't have to make any repairs. The seller could decide to just walk away from the deal and wait for another buyer. Your best option is to have your Realtor work with the seller's to reach an agreement. Often, the problem simply boils down to a lack of understanding. The seller might not realize that as a VA buyer, you need to have the repair done to get your loan approved.
This is where choosing a Realtor who understands the VA loan processcomes in.
"If you've got a buyer's agent that can explain all that to the listing agent, nine times out of 10 we'll get the repair done," Middleton says.
Buyers can also look to pay for repairs themselves if the seller won't budge.
3. Do market analysis before making an offer
Making an offer with a fair price is key to getting that offer accepted. But what's considered "fair"?
Striking the right note here can be challenging. You could lowball the seller in hopes of saving some money, but you'd risk driving the seller away. On the other hand, if you offer more than the VA is willing to approve, you'll have to either come up with the cash to cover the difference or risk losing out on the home.
You'll need to do a little homework to see what the home might appraise for before you make the offer—and that can get tricky.
"Sometimes we find with older homes that sellers are basing their prices on the new homes being built 2 miles away," Middleton says. "Basically, they want to price their 1990s house as a brand-new house, but the appraiser might not always agree."
The key to finding a good balance comes down to the comparative market analysis, or comps. Your Realtor should run a market analysis on similar, recently sold homes in the area before you come up with an offer price. If you land on a price that looks good to the seller and matches up with the appraiser's valuation, you'll have an easier time getting your offer accepted and getting approved for that VA loan.
4. Be conservative with demands
There are lots of myths about the VA loan process—that it takes a long time (not true) or that the seller won't make a profit (not true again!). Being a VA buyer shouldn't keep sellers from accepting your offer, but still aim to make your offer shine—especially if you're buying in a competitive market and multiple offers are common.
That means you might want to dial it back with the demands. Take, for example, closing costs. If you don't have the funds you need to cover the closing costs yourself, it makes sense to ask the seller to foot some of the bill. But you stand a better chance of getting your offer accepted if you present it carefully.
Middleton recommends trying to roll those closing costs into the total cost of the home.
"You have to put yourself in the seller's shoes a bit. If you just say, 'Hey, I want you to cover $6,000 in closing costs just because you've been on the market for 71 days,' it may not go so well," he explains. "Rather than offer $173,000 for the house and then ask for $6,000 in closings costs, absorb some of those costs into the asking price. Offer $179,000 instead."
With this approach, you're effectively financing your closing costs—with interest—over 15 or 30 years. But do keep in mind the home will need to appraise for that higher amount.
5. Make yourself stand out
You should also find creative ways to make yourself stand out from the other buyers.
"We often ask our buyers to write a 'love letter' to the seller," Racz says. "For instance, what they like about the house, why they are moving, how long they have been looking, etc."
It could mean the difference to sentimental sellers who want to see their home go to someone who will love it as they did. Even if it doesn't, you know you pulled out all the stops to make a solid offer that not only will be accepted by the seller, but will also get your VA loan approved.